In today's scenario, children's safety is of utmost importance for both parents and school management.

On an average, parents spend over 15 minutes on bus stands waiting for their children. Since parents are discouraged to send children to school by car, they have no option, but to wait. To deal with such a situation, many companies have come up with tracking solutions that help in bringing about transparency in the way school buses operate. These companies provide more or less the same services. They help in a virtual security of a school going children.

Parents can immediately know when the child has got on or off the school bus through a notification sent in real time to their phones.

Besides, with vehicle tracking system, drivers tend to get more punctual. They start and complete their jobs on time. Schools can always track where their vehicles are and for how long. Over speeding and route deviations are easily identifiable.

We list some of the companies that manufacture school bus tracking systems for added security of school children.
1. Ospox which is a vertical of Traxoid Automations Private limited came in to existence in Feb 2014. It provides Radio frequency identification (RFID) based School Bus Tracking Solution through which one can easily track the real time location of school bus along with the students in it so that parents are confident of their children' safety. It is a one stop solution for live tracking, route management, student attendance, automated SMS, emergency watchfulness, etc. Ospox School bus tracking claims that accuracy, efficiency, safety and security of their system has no match.
Features
of Ospox tracking system
1. Ospox School Bus Tracking System updates the attendance of system on the Ospox cloud application through Ospox RFID reader either by active or passive methods.
2. SMS alert: It sends automated pick, drop and arrival alerts to parents through SMS. It can also send manual mass SMS based on each bus's standard route.
3. Route Adherence: In case bus goes off the route, it sends automatic message on designated mobile numbers or Ospox application. This helps in saving the fuel and time besides children safety.
4. Speed Alerts: If bus over speeds, system immidiately sends speed details along with location and graphical visual to parents and school management via sms, email, app notification.
5. Live Tracking: With this app, bus can be tracked live on map with the default time refresh rate of 10 seconds.
6. SOS Button: An SOS button made available in the reach of the driver helps in sending an instant alerts via SMS during an emergency situation thereby facilitating quicker medical services arrival.
7. Driver Analysis: It generates automated reports about the driver performance based on time, speed violations and driving habits.
8. Route Record: It maintains records of past routes as well.
9. Emergency Management: In the situation of emergency, mere selection of bus route helps in identifying details of students like blood group and contact details. They automatically get mailed to the nearest hospital within minutes.
10. Downloadable Reports: All the reports with respect to attendance, bus location, speed, stoppage, history and other details can be downloaded or printed through the Ospox application.
11. In Bus Camera: The system comes with a camera that has to be fitted inside the bus. This makes the journey of children more transparent and safer.
How it works:
· School Bus is fitted with Ospox GPS tracking device and RFID reader
· Details of location are received from satellite on Ospox GPS tracker module
· Location Detail along with Student attendance from RFID is transmitted via GPRS or 3G from Ospox GPS & RFID devices
· Data from the Ospox device is received on server through cellular network, which is stored for analysis.
· Alerts are sent to parents and school authorities via SMS and email.
· With the Ospox cloud based application, one can view live Bus location, students attendance and other reports from anywhere in the world.
2. Track school bus is a venture of Edsys that's based in Thiruvananthapuram, Kerala. It provides GPS school bus tracking systems to ensure students have a safe journey to and from their schools.
School Bus Tracking is a GPS based service that helps in tracking the location of school children while in transit. Large number of educational institutes across the country has already adopted this service for the safety of children.
School Bus Tracking helps schools in managing their fleet of buses smoothly by converting them into Smart Buses. Consequently, this service facilitates smooth fulfilment of administrative tasks that go along with ensuring the safety of a child. Parents can anytime know whereabouts of children. The service can also be used for corporate employee transportation as well.
The system provides real-time updates on school bus locations and sends alerts in the form of SMS, Android push notifications or iOS notifications. This helps parents know about bus delays, over speeding, unscheduled bus stoppage or other problems.
With the help of school bus tracking systems, one can analyze the reports on travel distance, travel speed, travel history and thereby school drivers' efficiency. System also helps in saving energy and time by automatic routing and planning, and scheduling of bus stops
This helps in reducing fuel consumption and improving overall efficiency of school bus fleets. Bus breakdowns and related issues can be dealt with quicker and more efficiently.
3. Child safety India manufactures school attendance management system based on RFID. This automation system is meant for all the colleges, schools and other educational systems. Since both the software and hardware are customized, they can be made according to one's budget and requirement. Company claims successfully running of system for last 8 years. Since the system is based on web, it can be operated from anywhere in the world.
Implementation of school attendance management system helps in effective monitoring of student's entry and exit. Many renowned schools are using this technology and at times some have got it customized as per their needs. The system uses the latest technology such as Wireless Satellite Technology, VSAT, RFID, GPRS and GPS for children's security and safety. It is easy to operate and free from any virus attack.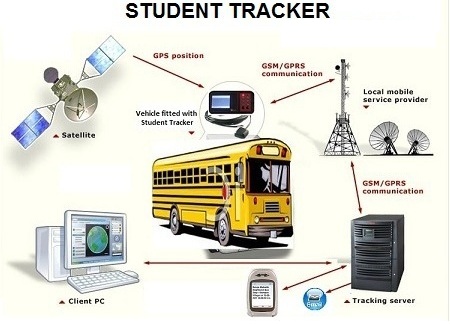 ​The RFID Student Attendance System is a plug and play system with which data can be accessed immediately from anywhere in the world. It provides real time information about students' attendance and location. Reports are then sent via email and SMS every day.
Child Safety India claims that it is the first manufacturers of this system in India and it provides this product in India & Asia-pacific.
3. InnoVita Technologies Private Limited was incorporated in Pune, Maharashtra, India in year 2011. Their vehicle tracking solutions has helped companies across India and abroad become more secure, safer and more profitable.
Their school bus tracking system comes with following features
1. Attendance: System is integrated with active/passive RFID that updates the attendance of the students on cloud based online software.

2. Pick/Drop SMS: Automated Pick/Drop and arrival alerts are sent to parents mobile.

3. Route Discipline: If drivers makes a detour, instant sms are sent to parents and school management
4. Speeding Alerts
5. Live Tracking: System allows live tracking with data refresh time at the rate of 30 seconds.
6. Panic Button: Panic button close to driver helps in the situation of emergency.
5. vTrack is a leading brand of Hashprompt Technologies Private Limited in the GPS Tracking and Cold Chain Monitoring market space. Their Research to bring in GPS Tracking System to the Indian market started in 2002. Today, they serve some of the leading corporate houses in India. Their in-house research and development centre helps them design and manufacture GPS Trackers in India. vTrack claims that its devices are more stable, reliable and robust for India's operating environment.
iBusTrack is designed by vTrack to track school buses with the help of GPS and school students through radio frequency identification (RFID). This system is fitted in school bus with GPS and RFID enabled. The system reports its position with the help of GPS, and also displays students' photo when they scan their RFID tag. As the child scans his or her tag, parent(s) will know that child has boarded and they will also know the time when he or she de-boarded. The scanned information gets immediately transferred to the server along with the student's destination details. The cloud based school bus tracking server processes the information for parents to get updated through an Android or iOS app.


6. Head Quartered in Chandigarh, India, Hi-Tecpoint Technologies manufactures vehicle tracking system Blackbox which is totally a web based vehicle tracking system that is currently being used by over 100 customers nationwide as well as in other countries such as Nigeria,Ghana,Thailand,Kenya,Bangladesh.
Blackbox allows the school authorities to keep a check on the speed of the bus and rash driving so that accidents may be avoided. With BlackBox, parents get to know about the boarding and de-boarding of child in bus through SMS.provides prior information to the parents about the arrival of school bus through SMS.
Company boasts of serving following sectors such as Logistics, Constructions, Banking, Schools / Institutes, Food / Bevrages & Medicines, Oil / Petrolium, Hospitals, Police department, Cabs / Taxis, Govt Sector and even Personal Tracking